Messages : 1056
Inscription : 05 mai 2008 19:42
Votre Club : AMCD
Catégorie : 4x2 Open
Valeur Nationale : 0
Je vient de voir cette photo, pourquoi prendre un DEX410 pour rouler en 4x2 sous la marque Serpent ?
C'est pas un DEX410, c'est un S500!
La ressemblance est troublante
Normal, puisque le S500 de serpent est exactement la même voiture que le DEX410 de durango! Mais serpent n'a jamais produit la voiture.
Messages : 1056
Inscription : 05 mai 2008 19:42
Votre Club : AMCD
Catégorie : 4x2 Open
Valeur Nationale : 0
Je ne connaissais pas le S500 mais c'est la copie conforme du 410....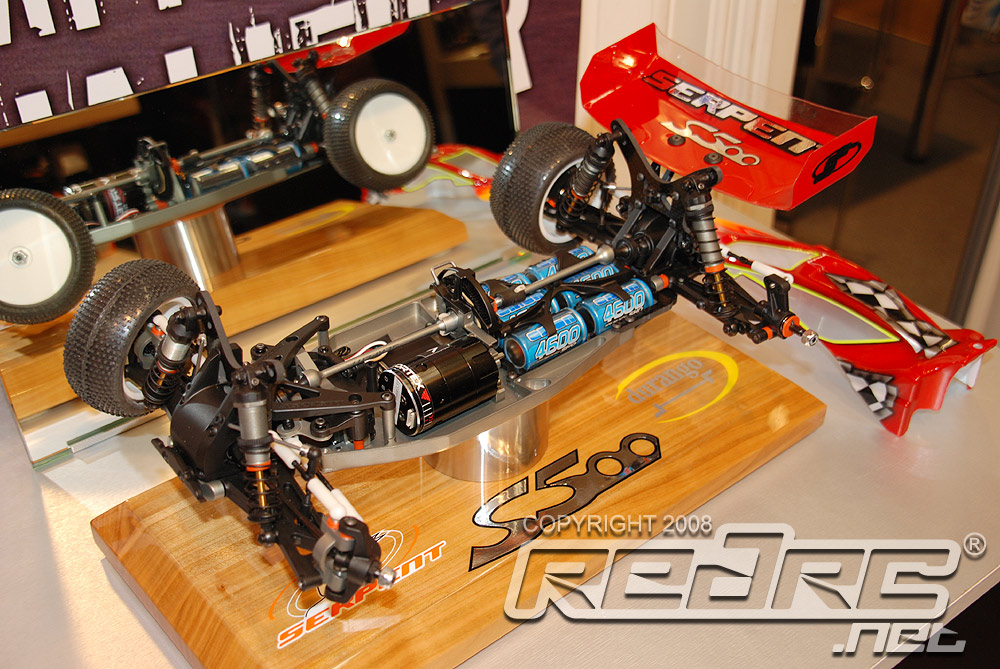 C'est plutôt l'inverse!
Serpent a developé le S500 avec Gerd Strenge le concepteur du prototype Durango full alu (photos ici
https://www.facebook.com/Durango-Vintag ... ne/?ref=ts
)
Puis il y a eu une restructuration chez serpent et le projet n'a pas abouti. Et Gerd est parti avec son projet déjà développé et la produit en Chine.
oui mais la il est en 4x2. essai des chassis a cardan central
Messages : 57
Inscription : 07 déc. 2013 16:31
Votre Club : Mrcpm
Catégorie : 4x4 Open
Valeur Nationale : 10
Palmarès : Ça c'était avant .....
C'est juste que Nemann et les autos d'origines ça fait 2.
Le 4x2 + le 4x4 proto à cardans, je suis pas sur du résultat commercial aux yeux des gens alors que le Srx4 viens tout juste de sortir...
C'est plutôt une balle dans le pied en ce début de semaine, à moins qu'il soit champion du monde à la fin de la semaine..
Messages : 82
Inscription : 14 févr. 2009 15:30
Catégorie : 4x2 Open
Palmarès : champion du monde de roue arriere en mini velo
Going into the 2015 IFMAR Worlds, many had tipped their star driver Jorn Neumann to excel – a specialist on high grip indoor carpet/astro races of recent years having dominated EOS events for years it would seem. That proved not to be the case however in Japan as Serpent hit stumbling blocks in their Worlds preparations and turned up with a selection of different cars to run.
Team principle Ronald Baar posted up the following statement on the Serpent Facebook page, addressing the speculation, finger-pointing in an effort to set the record straight:
Worlds Japan, statement on Team Serpent cars
There have been a number of remarks and questions about the cars the Serpent Team ran at the worlds. We understand that we have explain the reasons to Serpent fans and others why we decided to run the cars we did.
The reasons are simple, but we understand it created lots of questions, rumours and sceptical reactions in some cases. We do sincerely apologize for that.
Basically the preparation of the WC did not go as planned. We have been preparing prototype cars for the Worlds in both 2wd and 4wd. This has been explained in a publication before the worlds. Prior to the Worlds we tested the current SRX2 and SRX4 cars on high grip astro and found we could not reach a performance level to go for a WC podium or win. As most know the WC was run on extremely high grip astro.
Our current Spyder MM SRX2 and SRX BD do perform very well as we show in many races, and with SRX4 Neumann becomming 2015 vice – euro champion recently ( on clay).
On the 4wd side we decided to develop 2 platforms. One is a high traction version of the SRX4 belt-drive BD car, with the weight more front biased and for shorty use. Billy, as designer-racer, ran this car at the WC.
As a 2nd platform we decided to make a 4wd shaftdrive SD car, withover 15 years of 1/10 buggy design that Gerd Strenge brings to Serpent. This 4wd can also be run as 2wd shaftdrive car on high traction. Design and production issues in the short time before the WC ( related to wrong design files, metal parts hardening and delays in getting the right type suspension parts ready), created a pretty bad situation so short before the race. As all was booked and arranged already, we allowed Hupo and Neumann to run a semi-prototype car ( which was for a big share based on the Durango car ( which is also a Gerd Strenge Design) ).
In 2wd Billy designed a new version we call Spyder Mid-Hybrid which offers both upright and laydown transmission, as well as 3 and 4 gear options. We had some issues with design and prototyping here too. This meant we could only run one SRX2 Mid-Hyrbid proto at the Worlds and we decided Billy as designer to use it. Neumann and Hupo were allowed to run the semi-prototype 4wd also as 2wd shaftdrive car in 2wd.
The issues we had ahead of the WC with getting the right cars ready for Hupo and Joern also shows in the results and made it harder to work as a team. Joern still managed a proper 2wd result with a 5th place, but ended the 4wd race in the B-main, which shows how hard it was to find a set-up there, even with a type 4wd car he knows so well.
For Billy Easton the worlds were a big testing and learning excercise as in the US he never runs astro, so finding the right set-up for the high traction prototypes he ran was quite a challenge. He made good progress and has a lot of ideaś now how to improve on the current proto-types more. New version of the SRX2 and SRX4 are planned for 2016 release, but we have not decided on any final dates yet, as we have development and more testwork to do.
In the meantime the development of the shaftdrive platform continues at the same time, so in 2016 we will be able to offer Serpent fans both belt and shaft drive 4wd buggies, as well as Mid-Hybrid and shaft-drive 2wd cars.
We understand the scepsis in the media and at the WC itself. Above explains our reasons.
We are already back at work and do continue with full power to properly finish the above projects, so we will be able to show you progress and final versions as soon as we can. At the high quality level and with innovative solutions you are used to from us.
Team Serpent
EN 2016 UNE NOUVELLE VERSION
YOKOMO YZ4